Facebook is a giant. It is not only the probably best known social media platform of the world, it is also a corporation that owns services such as WhatsApp or Instagram. Being such an online imperium acting worldwide, Facebook is powerful. And it faces many pitfalls, for example regarding data security, hate speech, different local laws and censorship. In this series, I will examine Facebook's not always glorious role in development, conflict and crisis around the world.
The Rohingya crisis – the conflict between Buddhists and a Muslim minority in the Rakhine state in Myanmar – which caused a mass exodus in 2017 is widely known. The international media has been producing stories about the refugees arriving in Bangladesh, about the conflict itself and about Human Rights and press freedom in Myanmar. Nevertheless, it took some time for the world to figure out the factors that made this centuries-old conflict escalate that extremely in 2012 and again in 2017. One of those factors is Facebook. After living in a military dictatorship isolated from the rest of the world for years, the Myanmar people gained access to mobile phones, the world wide web and Facebook in an unusual pace. A mix of digital illiteracy, long-lasting conflict in an ethnically diverse country and the dynamics of Facebook lead to what we now know as "the Rohingya crisis".
I tried to summarize the development in an interactive timeline. It is not comprehensive and many more events and developments would be worth to name. But it gives an impression about the connections between digital development and conflict in Myanmar.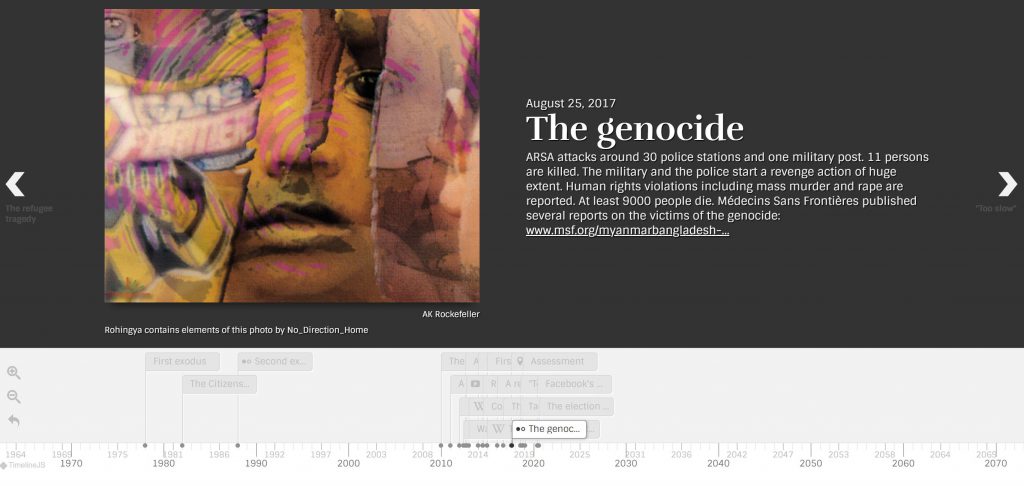 Most of the content and data in the timeline is derived from the following sources, which are recommended readings on the topic: