Around the world, people are looking to improve their quality of life. Whether that is by securing clean water access, fighting back against state violence or reducing crime, there are myriad ways in which people see something that would make their life better. And there are three major players in how these problems are identified and addressed: governments, development organizations and mass social movements.
While historically governments and development organizations dominated this area, with the advent of information communication technologies, or ICT, in the 21st century, specifically social media sites, mass social movements have risen to have a dominant role in setting up discussions in the public sphere. Not only that, but these movements are not contained within the borders of a municipality or nation state, as the public sphere was originally conceived. Rather, through the global reach of social media networks many of these social movements end up informing and even sparking mass mobilizations with similar grievances in other countries. (Fraser, 2007)
The most prominent early example of this is the Arab Spring, which is oft-cited as the turning point of mass social movements finding their catalyst through ICT. What began as an individual's protest against police corruption and brutality, when Tarek el-Tayeb Mohamed Bouazizi set himself on fire in Tunisia, quickly spread to more than a dozen countries with major protests. Surveys of protest participants across countries showed that many of them used social media sites like Facebook and Twitter to organize protest events and spread awareness. (Tufekci, 2017, pp. xxii-xxiv)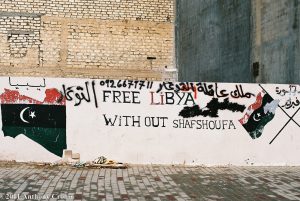 This is not to say that social media sites were the cause of the uprisings across the region, but rather that they facilitated the connections of masses of people around an issue that would previously have been censored by the government and media. In the countries where the Arab Spring had the biggest impact, there were already politically engaged people who were dissatisfied with the status quo (Tufekci, 2017, pp. 8-10). However, due to laws with strict penalties for opposing the government, the more traditional forms of organizing protests through civic groups and strong-tie relationships were nearly impossible. The introduction of social media sites allowed for anonymous or pseudonymous political engagement and networking, resulting in a broader reach to weak-tie relationships. (Tufekci, 2017, p. 61)
While the Arab Spring may have been the first instance of this paradigm shift in organizing social movements and their ability to transcend national borders, it was certainly not the last (Arezki, et. al. 2020). Perhaps the most recent examples are the calls to defund the police in the United States as a response to the police killing of George Floyd and the pressure to disband the Special Anti-Robbery Squad (SARS) in Nigeria in response to the killing of a law student, both in 2020.
Black Lives Matter, #DefundThePolice and George Floyd
The Black Lives Matter movement traces its beginnings to the acquittal of George Zimmerman for the murder of 17-year-old Trayvon Martin in 2013 (Black Lives Matter). Zimmerman, a resident in the neighborhood of Martin's father's fiancee, whom he was visiting. Martin was walking back to the house after going to a convenience store when Zimmerman, a member of the neighborhood watch, called the police, pursued him and then shot and killed him. Following Martin's murder, there was extensive outcry on social media, including a Change.org petition that garnered more than 2 million signatures. The man who started the petition had said that he was inspired by the social media response to the killing of Khaled Said in Egypt, which was a catalyst to the arrival of the Arab Spring there (Leitsinger, 2012). The public response to Martin's murder resulted in charges being brought against Zimmerman, who was acquitted in 2013. Following the result of the trial, people expressed grief and outrage on social media, with Patrice Cullors, Alicia Garza and Opal Tometi coining the hashtag #BlackLivesMatter.
The hashtag soon became attached to a social movement, as police killings of Black people gained national attention through social media sites. Eyewitness accounts and photographs of Michael Brown's body lying in the street after being shot by police in Ferguson spread like wildfire in the summer of 2014. The same pattern played out for the video recording of the death of Eric Garner from a police chokehold. After the death of Sandra Bland in police custody in 2015, the hashtag #SayHerName was created to bring attention to the deaths of Black women at the hands of police. Seemingly every year there would be another name of a Black person who was killed that would become another hashtag to be accompanied by #BlackLivesMatter.
Then, in 2020, the movement exploded in a way that it hadn't previously. In May 2020, George Floyd died as a result of a police officer's knee on his neck for nine minutes. Early police reports obscure the fact that the officer was responsible for his death and it was only after a video of the incident made its way to social media that there was an explosive reaction (Levenson, 2021). This enormous response was likely tied to the fact that it was still early days of the COVID-19 pandemic and many people were at home and spending more time on social media than usual. Additionally with many people not working due to the pandemic, people had the time and ability to show up to protests that they may not have had in the previous years. This resulted in the largest street protests in the United States, with solidarity demonstrations taking place around the world.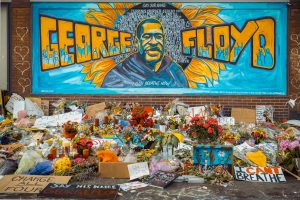 While some of the early demands of the Black Lives Matter movement focused on police reforms, such as requiring body cameras, increased training, or a return to community policing, the demands of the 2020 uprisings were markedly different. The phrase "defund the police" became a rallying cry and chant heard from marchers across the country. For some, this slogan meant an ultimate abolition of the police (Nwakanma, 2022). The main line of thought behind this aim is that there are a multitude of underlying factors that would lead a person to commit what is deemed a crime, and that by addressing those issues safety can be achieved without the use of police. However, municipal budgets are disproportionately allocated to police departments instead of other needed community programs. (Kaba, 2020)
State response to the protests could be characterized by a strong, militarized response to street protests. Throughout the years, and particularly in 2020, photos of protesters with their hands raised facing down a line of cops in riot gear have proliferated. Protesters in Hong Kong and Palestine, seeing the photos and videos on social media from the BLM protests, would share the tactics they used for dealing with tear gas and other so-called crowd control measures. From a governing perspective, lawmakers were generally amenable to the earlier demands for reform. However the shift to the more radical demands of defunding and even abolishing the police received heavy backlash from politicians, with some saying that in fact the police needed more funding. Momentum behind the protests waned as people returned to work, though defunding the police has endured as a part of the public sphere.
Transnational Public Sphere and #EndSARS
The #EndSARS movement in Nigeria has a number of parallels with the Black Lives Matter movement in the United States (Wada, 2021). The call to end SARS was a call to disband the Special Anti-Robbery Squad, a specific unit of the Nigerian police force. This unit was created in 1992 as a response to increasing violent crime. However, in more recent years it's been seen as targeting and profiling Nigerian youth. There are also widespread reports of human rights abuses enacted by SARS, ranging from assault and rape to torture and extrajudicial killings. (Uwazuruike, 2020)
Like the Black Lives Matter movement in the United States, #EndSARS was being called for years before 2020. Some of the earliest instances of the hashtag on social media dates back to December 2017, and was almost certainly influenced by the global nature of the BLM movement during this time prior to 2020 (Dambo et. al. 2020). In fact, there were solidarity protests in response to the killing of George Floyd that took place at the US Embassy in Nigeria during the summer of 2020. (Dahir, et. al., 2020)
On 3 October 2020, SARS officers were recorded driving off in the car of a law student they had just killed. By 9 October, the video had gone viral and Nigerians had taken to the streets across the country, organizing under the banner of #EndSARS. The protests received attention, through retweets and songs, from prominent Nigerian celebrities as well as from prominent international figures and politicians (Dambo, et. al. 20221). Just as activists in the United States called for the defunding and abolition of the police, the Nigerian protesters called for specifically the abolition of the SARS unit, along with the release of arrested protesters and other demands.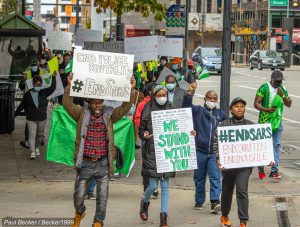 After two days of sustained protests, on 11 October the government announced that it would disband the SARS unit, which was initially met with celebrations from the protesters who felt their goals had been achieved. However, it was soon made clear that the unit was to be replaced with the Special Weapons and Tactics unit, in another parallel showing the government being open to police reforms but not abolition.
As the news of the bait and switch by the government traveled through social networks, the protests grew and the demands increased. On 20 October, crowds had gathered at the Lekki Toll Gate in Nigeria, in defiance of a set curfew, and were met with military bullets. The reported death toll of protesters from that evening varied, and the government has never confirmed the actions that were taken. Most reports put the total number of people killed at around 50, with many others being injured. Once again, it was a video of the state violence that went on to be spread through social media that garnered more response to the situation. Based on the government's handling of what is now known as the Lekki massacre, it's clear that without social media sites the events of that evening would certainly have been censored and unknown beyond those who were present (Uwalaka, 2022).
In a survey of students in the months after the explosive #EndSARS protests, nearly three-quarters of them agreed that it was influenced by the global movement against police brutality (Wada, 2020). Knowing that Nigerians were already aware of and moved by the response to the police killing of George Floyd from the earlier protests, it's not a hard argument to make that protesters' political awareness and propensity to take to the streets would be connected to the global movement.
How Does Development Fit In
As explored in the beginning, there are three main parties for identifying and addressing issues to improve people's quality of life. In the examples of Black Lives Matter and #EndSARS, both were primarily driven through mass social movements and state governments. In both instances nongovernmental organizations played a role in the movements, however the effectiveness of the organizations on supporting the people in achieving their demands differs. It also opens up the question of what is the role of development organizations in either responding to or taking part in social movements.
Historically, it was organizations that were at the front of social movements. From the Civil Rights Movement in the United States, a precursor to the Black Lives Matter movement, you find the Student Nonviolent Coordinating Committee, the Southern Christian Leadership Conference and the NAACP. In earlier social movements in Nigeria, such as the Aba Women's riot in 1929, you will find unions and ladies' clubs had a part in the organizing. It was through these organizations that people built up the trust, strategy and tactics for planning and executing a protest. Currently, with most social movements gaining traction on social media sites, anyone can participate in or plan a protest, regardless of organization affiliation. As social movements have shifted to leaderless, horizontal organizing, development organizations should take the time to evaluate where they fit in.
For the BLM movement, the women behind the hashtag ultimately created a chapter-based nonprofit organization, the Black Lives Matter Global Network. The organization was frequently touted as a place to donate money in response to each outcry of another murder of a Black person. However, in 2020, the formal organization came under heavy criticism from activists due to its finances. Investigative reports showed that the organization bought a $6 million property (Campbell, 2021); many families of victims of police brutality have said they were told that they would receive funds raised in their family members' name and never did. There is no clear record of who has run or is running the organization and tax filings are delinquent.
On the other side, in Nigeria, as the #EndSARS protests were growing, the Feminist Collective was founded as a way for people in the diaspora and around the world to donate money to support protesters. The money was ostensibly used for bail and, through the use of cryptocurrency donations, to support protesters who had their bank accounts frozen by the government.
While both of the organizations were created out of the protests, Amnesty International has long researched and called attention to the issues that protesters organized against (Amnesty International, 2016). But is that the only avenue for organizations to be a part of these social movements, research and awareness raising? Considering that many organizations have close ties to governments, either through funding, legal recognition or allowing them to operate in a country, it's unlikely that development organizations are willing and able to truly be community-led on these issues and advocate in opposition to governments' positions. With that in mind, it's no wonder that many organizations are also finding themselves to be targets of social movements based online.
References
About – Black Lives Matter. Black Lives Matter. (n.d.). Retrieved November 8, 2022, from https://blacklivesmatter.com/about/
Amnesty International. (2016). Nigeria: You have signed your death warrant. London, UK: Amnesty International. 
Arezki, R.; Dama, A. A.; Djankov, S.; Nguyen, H. (2020). Contagious Protests. Policy Research Working Paper;No. 9321. World Bank, Washington, DC. World Bank. https://openknowledge.worldbank.org/handle/10986/34130 License: CC BY 3.0 IGO.
Campbell, S. (2021, January 31). The BLM Mystery: Where did the money go? New York Magazine. Retrieved November 7, 2022, from https://nymag.com/intelligencer/2022/01/black-lives-matter-finances.html 
Dahir, A. L., Maclean, R., & Chutel, L. (2020, July 3). George Floyd's Killing Prompts Africans to Call for Police Reform at Home. New York Times. Retrieved November 7, 2022, from https://www.nytimes.com/2020/07/03/world/africa/george-floyd-protests-police-africa.html 
Dambo, T. H., Ersoy, M., Auwal, A. M., Olorunsola, V. O., Olonode, A., Arikewuyo, A. O., & Joseph, A. (2020). Nigeria's #EndSARS movement and its implication on online protests in Africa's most populous country. Journal of Public Affairs, 22(3). https://doi.org/10.1002/pa.2583 
Dambo, T. H., Ersoy, M., Auwal, A. M., Olorunsola, V. O., & Saydam, M. B. (2021). Office of the citizen: A qualitative analysis of Twitter activity during the Lekki shooting in Nigeria's #endsars protests. Information, Communication & Society, 1–18. https://doi.org/10.1080/1369118x.2021.1934063 
Fraser, Nancy. (2007). "Transnationalizing the Public Sphere: On the Legitimacy and Efficacy of Public Opinion in a Post-Westphalian World" in Theory, Culture and Society, Vol. 24 (4): 7-30.
Kaba, M. (2020, June 12). Yes, We Mean Literally Abolish the Police. New York Times. Retrieved November 7, 2022, from https://www.nytimes.com/2020/06/12/opinion/sunday/floyd-abolish-defund-police.html 
Leitsinger, M. (2012, March 29). How one man helped spark online protest in Trayvon Martin case. NBC News. Retrieved November 7, 2022, from https://www.nbcnews.com/news/world/how-one-man-helped-spark-online-protest-trayvon-martin-case-flna588709  
Levenson, E. (2021, April 21). How Minneapolis Police first described the murder of George Floyd, and what we know now. CNN. Retrieved November 7, 2022, from https://www.cnn.com/2021/04/21/us/minneapolis-police-george-floyd-death/index.html 
Nwakanma, A. P. (2022). From Black Lives Matter to EndSARS: Women's Socio-Political Power and the Transnational Movement for Black Lives. Perspectives on Politics, 1–14. https://doi.org/10.1017/S1537592722000019 
Tufekci, Z. (2017). Twitter and tear gas: The power and fragility of networked protest. Yale University Press.
Uwalaka, T. (2022). Social Media as Solidarity Vehicle During the 2020 #EndSARS Protests in Nigeria. Journal of Asian and African Studies. https://doi.org/10.1177/00219096221108737 
Uwazuruike, A. R. (2020). #EndSARS: The Movement Against Police Brutality in Nigeria. Harvard Human Rights Journal. https://harvardhrj.com/2020/11/endsars-the-movement-against-police-brutality-in-nigeria/ 
Wada, H. I. (2021). An Assessment of Nigeria's 2020 #EndSars Protests and a Comparative Analysis with US's Black Lives Matter Protests. SCIENTIA MORALITAS – International Journal of Multidisciplinary Research, 6(2), 7–23. http://www.scientiamoralitas.com/index.php/sm/article/view/97