This pandemic has resulted in that many countries have introduced restrictions to freedom of expression and tightened the democratic space. Free media and journalists are under threat. In a time of crisis, media and journalists are among the first casualties. Disinformation has surged and one of the cures for this is to make sure that journalists can do their job to inform the public and speak the truth to power.
In a recently published brief, Journalism, press freedom and COVID-19, from UNESCO's series "World trends in freedom of expression and media development" it is stated that journalists are putting their own safety at risk, on many levels. Physical safety, legal safety, psychological safety and digital safety. And according to Reporters Without Borders (RSF) Zimbabwe has imposed more restrictions on press freedom and committed more abuses against journalists than any other African country since the start of the pandemic. Many reporters have been arrested for covering the government's lockdown measures.
For this post I will look at the situation here in Zimbabwe. Journalists are being intimidated, attacked and even arrested by the police during this pandemic. How can ICT be used as a tool to keep journalists safe(r) in general, not only in the context of an ongoing pandemic?
To answer that I contacted MISA (The Media Institute of Southern Africa), a member-based NGO that advocates for media freedom and freedom of expression in Southern Africa. And in this case MISA Zimbabwe and the director Mr. Tabani Moyo. We talked about their applications for mobile phones and the SOS Hotline that they are providing via their Media Defence Fund.
The Media Defence Fund was set up to help media practitioners and media institutions who have been victims of violence, harassment and even arrests while doing their duty. In this way they get both medical help and also legal help through a Media Lawyer Network connected to MISA Zimbabwe. To hire legal assistance is expensive and many freelancer journalists can't afford it.
Both the apps and the hotline are also tools for MISA Zimbabwe to record violations to the media sector in Zimbabwe. Every year they produce a report on that topic.
Journalists SOS Support Hotline
MISA Zimbabwe provides an SOS Hotline 24/7, seven days a week.  It is a service that provides rapid legal help for journalists, media professionals or other content creators that are in distress while carrying out their work. Or when asserting their freedom of expression and access to information. The person either text or call the number and explain the incident and where it happened. MISA Zimbabwe will respond in sending a lawyer from their Media Lawyers Network to give legal representation.

Mobile apps for safety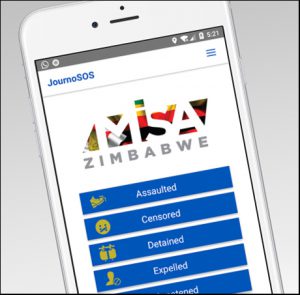 Ahead of the elections in 2018 MISA Zimbabwe launched the JournoSOS App to enhance the work to promote a safe working environment for journalists. It is not unusual that elections is a time of unrest in the country. The app is available to members of MISA and in order to be able to use it the journalist must register on the app and giving details needed for verification when it is used. On the app there are pre-programmed categories as a shortcut to report an incident. The categories are; assaulted, censored, detained, expelled or threatened. This helps MISA to know the nature of the situation in their response . The app is also connected to MISA's SOS Hotline and comes with a call-back-function to the person in distress.
Around the elections they realized that the attacks increased beyond members and they saw the need to create an additional app to be able to cater for the broader media industry – the new app is called Media Alert. Once the app is installed you simply double-click on the volume button and someone from MISA calls back.
Panic Button to be launched
The apps are relying on someone's capacity to keep on communicating but some circumstances may not allow that. He or she might not be able to answer a call since they are under siege.
So the next step in this ICT initiative is the Panic Button, a secret alarm to get help fast in an emergency or a dangerous situation. The app encourages peer-to-peer security planning and response.  The disguised app has been improved to include GPS coordinates to be able to locate where this person is at. The GPS coordinates is sent in a Google Maps link to all pre-entered emergency contacts at predefined intervals. This version of the Panic Button origins from the application constructed by Amnesty and MISA's version of the app comes at a time with growing reports of arrest and abductions of human rights defenders and journalists in Zimbabwe. It will be launched in November this year.
New technologies – such as social media and mobile Internet – have fundamentally changed how we shed light on and respond to human rights abuses. Today, almost anyone with a mobile phone can be a human right monitor and challenge the abuse of power by capturing and sharing documentation of abuses as they happen.

And yet, technology brings new threats. Information Communication Technologies (ICTs) are becoming a battleground as journalists, citizens and activists seek inventive ways to protect the secure flow of information while governments invest in sophisticated technologies to intercept, monitor, track and censor those who challenge them.

Tabani Moyo, Director MISA Zimbabwe
Journalists around the world that are being arrested while performing their duties is sadly nothing new and many have been imprisoned for years. What is striking though is how many governments have taken advantage of this situation of a pandemic as a pretext to violate human rights and heavily impact information bearing institutions and media practitioners. And when it comes down to providing accurate information to the public, and you are hindered to do so, it is not only a violation against the journalist – it is also a violation against the public. And their right to information.