Young Nigerians are leading a protest that calls an end to police brutality, incarnated in the notorious and violent Special Anti-Robbery Squad (SARS). According to Amnesty International, at least 56 people have been killed in October. Celebrities from Cardi B to Pope Francis have tweeted prayers for Nigeria.
From my living room in Bristol, UK, on the 20th of October, I was able to connect with a local #endsars activist speaking to me from the Nigerian capital, Abuja for my first ever podcast 'Powering Through'. Chinedu[1] is a health communications specialist who has also worked in advocacy and public relations for international NGOs, the government, and private companies.
The photos were shared. The stories were told. The facts were checked. #endsars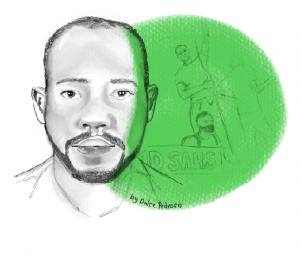 In this clip, we discuss how #endsars came to become one of the biggest protests of the year 2020 – and the bar is already high! Chinedu explains how Twitter became the ground zero of the movement: "Everything about #endsars has happened on Twitter. The photos were shared. The stories were told. The facts were checked."
The protest has drawn inspiration from other movements – the Hong Kong, Black Lives Matter, and Thailand protests – while staying authentic to the Nigerian context in how the social media platforms and digital tools have been used. What unifies these protests are their leaderless nature and underlying economic injustice.
We also look back to other Nigerian movements of recent years that have gone global to understand whether what makes #endsars unique will make it more long-lasting than the #bringbackourgirls campaign five years ago.
Over the past few weeks, this blog has been exploring the dangers of the online world and how social media has eroded public trust. The #endsars movement is a reminder that for many people the trust was never there, the streets were already unsafe. Through social media, young people can bypass traditional media, own their narrative, and demand accountability from those in power. Despite the harrowing picture, Chinedu remains cautiously optimistic. And we don't mention the pandemic even once.
[1] Full name withheld for safety