Estimated reading time: 4 minutes, 39 seconds
The continuous development of new technologies and their application to economic, political and social processes is creating new opportunities that could enhance the quality of human life.
Taken from INSTRAW[1] Virtual Seminar Series 2003
This statement rings just as true in 2020 as it did 17 years ago – if not more. However, the pervasiveness of information and communication technologies, has also shown patterns of inequality, as structural power asymmetries that make it more difficult for women than men to access and utilise Information and Communication Technologies.
Cinnamon (2020) outlines the three levels of digital inequality. The first being material access to computer and mobile hardware as well as internet connectivity. The second level is points to a widespread lack of necessary skills and competencies needed to harness digital technology. The third levels assess the purpose that Information and Communication Technology is used for and the degree to which technology is used to generate beneficial outcomes. Holistic policy approaches need to take all three levels into account, moving beyond merely granting access.
How can digitisation bring about opportunities for women's empowerment? This is what the recent Mediterranean Women Digital Summit set out to address. Over the span of two days, presentations and round table discussions were held with various practitioners, activists and entrepreneurs from the Southern Mediterranean region, to problematise digital gender inequality, and explore initiatives aimed at bridging the digital gender divide. Key questions centred around the presence and participation of women on the internet,  as well as how to harness innovation for the purpose of rendering the internet a more gender-equal space.
Gender-Digital Divide – Facts & Figures
Mobile phone ownership is a commonly measured indicator of the digital gender gap, as they are often the primary means of internet access in countries of the so-called Global South. Growth and proliferation of the mobile industry in low- and middle-income countries has led to a significant rise in mobile phone ownership and internet connectivity. However, this dramatic growth has not been equal, and there remains a gender gap. Digital disparities restrict the degree to which women and girls are able to access and shape the contemporary technology landscape. According to the findings of the 2109 GSMA Mobile Gender Gap report, women are 10 percent less likely to own a mobile phone. With regards to mobile internet, 313 million fewer women are connected to the internet. Beyond ownership and internet access, women also tend to use a smaller range of services than men when connected.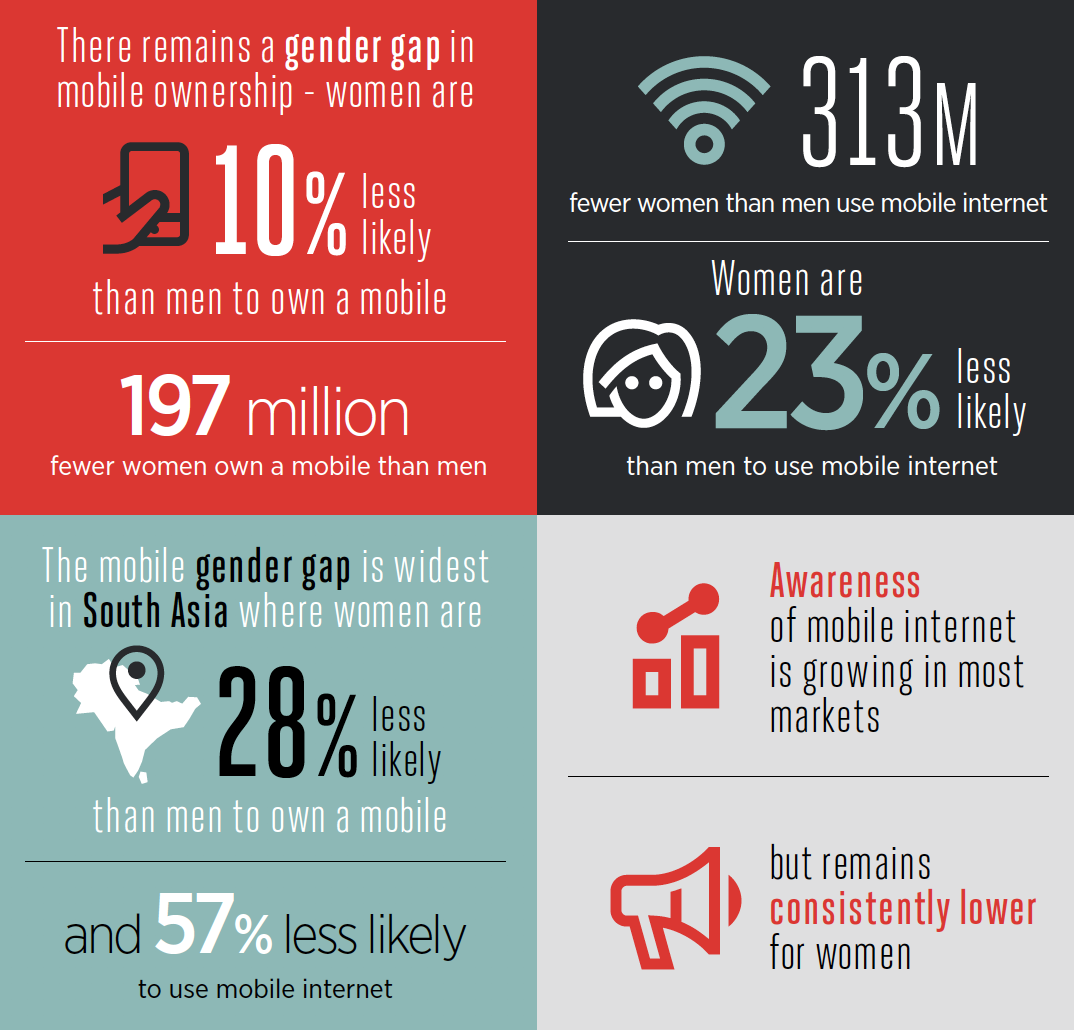 Overall, approximately 17% fewer women have access to the internet. As highlighted in the figure below, most internet users are men for a majority of the countries.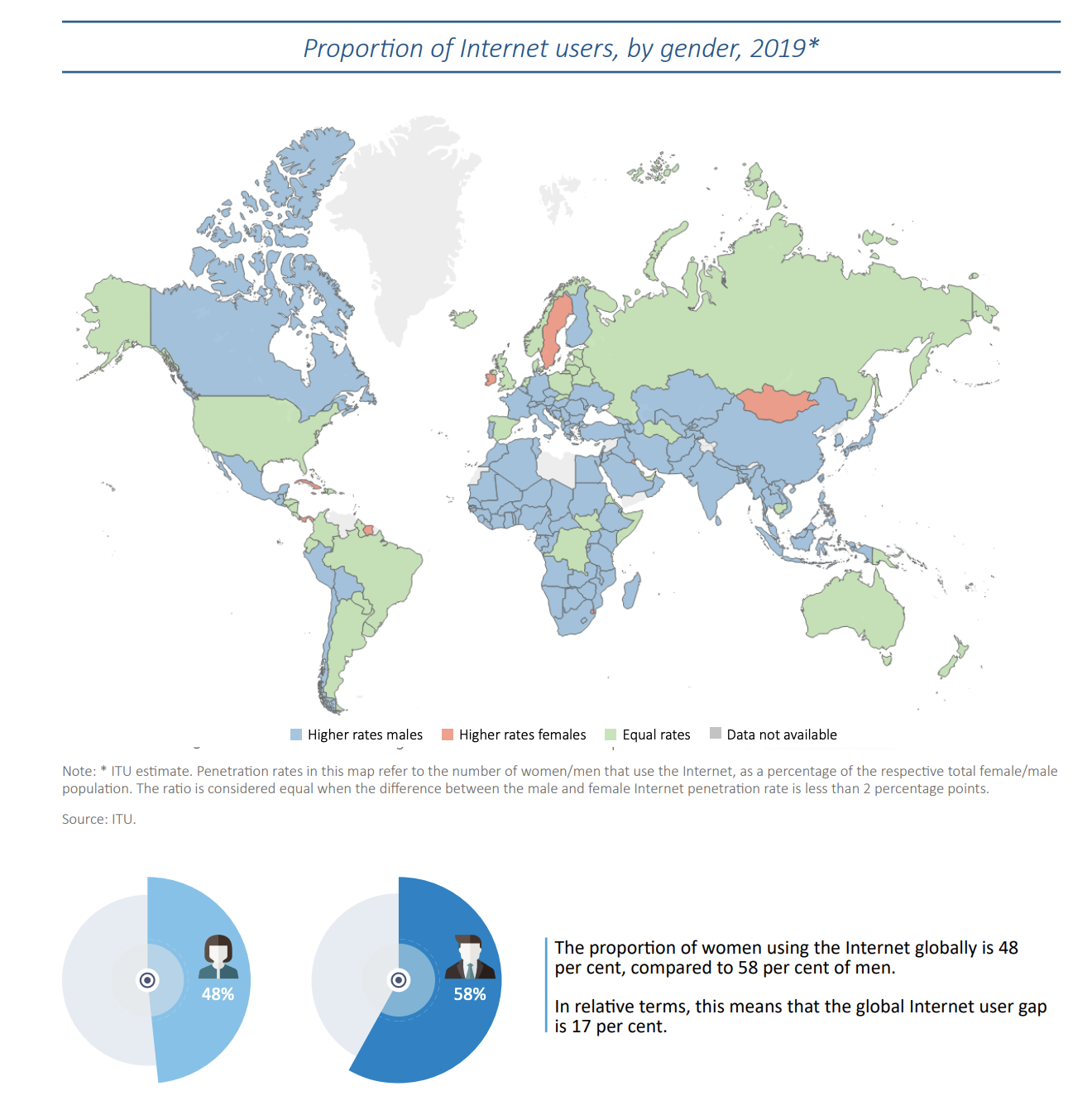 Game-changers – Women who are making a difference
This was the question raised during the first roundtable discussions, moderated by Bassant Helmi – Co-Chair of the Digital Arabia Network, Germany.
Najla Almissalati,  studied electrical engineering and founded a start-up aimed at closing the digital gender gap. She Codes equips women and young girls with computational, coding and programming skills. The organisation thus occupies a crucial position in an overwhelmingly male-dominated space, in which very few women are represented. She Codes equips women and girls with the technical know-how necessary to pursue careers in the tech-ecosystem.
Dorsaf Benna Chelly, Coordinator of the Africa Code Week, Tunisia shared important insights on how internet practices reflect practices in society. Also referred to by Cousins (2020) as the mirror trope – the notion is that digital inequalities correspond to existing societal inequalities. In other words, real world inequalities are thus reproduced in the digital space, as women's standing in society affects their access to and usage of digital technologies. A concrete example provided during the discussion is that of social media use. In the Tunisian context – due to parental or partner constraints – many women use fake names and aliases to create accounts. This example hints at women's constrained access to the digital public sphere, and the methods by which they circumvent restrictions.
Hani Vahabi, Director of the AICenter, Sweden spoke about the implicit bias in artificial intelligence. Specifically with regards to virtual assistants who are overwhelmingly equipped with female voices, thus perpetuating a subservient female imagery. Looking at relationship between technology and gender, she points out that technology shapes people's minds and mentalities. It is therefore crucial that technology is understood by all members of society in order to allow for critical reflection of how biases and stereotypes are perpetuated and reinforced in the virtual world.
Sana Afouaiz, Founder & Director, Womenpreneur, Morocco further stressed the need to move beyond the branches of the gender divide issue and consider instead its roots. This requires tackling mindsets of those that impose barriers. Furthermore, it is important to create safe and friendly spaces for women to discover and learn the opportunities provided by tech.
The live stream recording can be watched back on the Facebook page of the Konrad-Adenauer-Stiftung, Regional Program South Mediterranean
[1] The United Nations International Research and Training Institute for the Advancement of Women (INSTRAW) – Later merged into UN Women
References
Cinnamon, J. (2020). Data inequalities and why they matter for development. Information Technology for Development, 1-21.
GSMA. (2019). Connected Women – The Mobile Gender Gap Report. Retrieved from https://www.gsma.com/mobilefordevelopment/wp-content/uploads/2019/03/GSMA-Connected-Women-The-Mobile-Gender-Gap-Report-2019.pdf.
Heeks, R. (2018). ICTs, Poverty and Livelihoods. In R. Heeks, Information and Communication Technology for Development (pp. 173-208). Oxon & New York: Routledge.
Huyer, S., & Sikoska, T. (2003). Overcoming the Gender Digital Divide: Understanding ICTs and their Potential for the Empowerment of Women. Retrieved from http://www.unesco.org/new/fileadmin/MULTIMEDIA/HQ/SHS/pdf/Overcoming-Gender-Digital-Divide.pdf
ITU. (2019). Measuring Digital Development – Facts and Figures . Retrieved from https://www.itu.int/en/ITU-D/Statistics/Documents/facts/FactsFigures2019.pdf
Konrad Adenauer Stiftung. (2020). The Mediterranean Women Digital Summit. Retrieved from https://www.kas.de/en/web/poldimed/veranstaltungen/detail/-/content/the-mediterranean-women-digital-summit-3